As I have been asked many times for recipes I decided to sum up my favorite one in a blog post. The cake is super delicous, yet refined sugar and gluten free. It is really easy to make and can be combined creatively in so many ways. I added my favorite combinations of this cake at the end of this recipe.
Raw vegan cheesecake
Crust:
1 cup dates (the stickier the better)
1 cup almonds
1/4 cup coconut flakes
1 tbsp coconut oil
Filling:
2 cups soaked cashews
1 cup agave syrup
1 can of full fat coconut milk (only use the fatty part)
1 lemon
1 tbsp Vanilla
Salt
Toppings: Fruit, nuts, or chocolate, whatever tastes good
Soak the cashews for 8 h. If you don't have time for this, you can cook them for 30 min.
Add the dates, almonds and coconut flakes to the blender and create a sticky dough. Press that dough to the bottom of the cake form. Then store it in the freezer while preparing the cream.
Prepare some lemon zest from half of the lemon and juice the lemon. Then mix up the soaked cashews, the fatty part of the coconut milk, the agave syrup, the lemon zest and juice, vanilla and salt until it's all creamy.
Pour the cream on top of the cold crust and let it sit in the freezer for at least 4 hours. When you're ready to serve, take it out of the freezer about 15 minutes before to thaw out a bit. Store leftovers in the freezer again.
I used a 6 inch cake form but you can use a bigger one and double the recipe if you want!
You can combine this basis recipe with any creative ingredients. My favorite combination is making a raw vegan blueberry lavender or raspberry rose cake. For that I simply add 1 cup of frozen bluebberies to the cream and a few drops of (eatable) lavender oil. For the rose raspberry cake I add 1 cup of frozen raspberries and (eatable) rose oil.
Hope you have fun trying out this raw cake and find your favorite combination!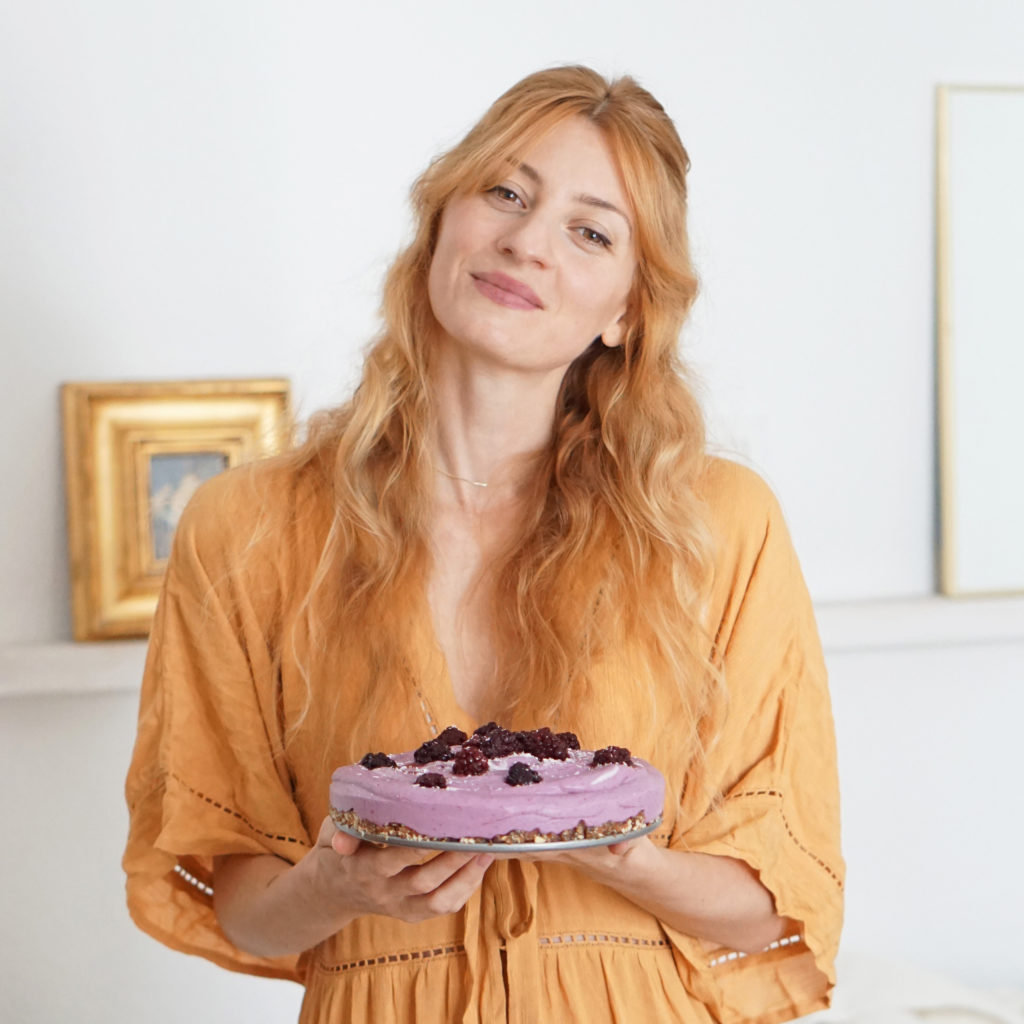 *The basis for the recipe is inspired by the wonderful https://www.elizabethcouse.com/.
Follow me on Instagram for further inspiration