If you are vegetarian or vegan you better don´t have high expectations on the food in Madeira. I am vegan and my boyfriend is vegetarian. We had a really tough time finding even vegetarian food. Mostly they didn´t have any vegetarian option on the menue. After a while that got really frustrating to be honest, because when we finally found some vegetarian options they tasted awful and seemed to be prepared by a cook that either has no idea at all about how to prepare a proper vegetarian/vegan meal or just hates vegetarians.
We were lucky though to have a really nice Hotel with a super nice breakfast that offered a variety of vegan options including german organic full grain spelt bread, cereals, nuts, fresh juices, fruit salad etc. -> Hotel Atrio . I can definetely recommend that place to vegans and vegetarians. They also had a large variety of dishes available for dinner. The staff of the hotel were also super kind and overall there was a great atmosphere. What I liked most was (besides the amazing breakfast every morning) the view from the terrace. In the evening after a long hike you could have a massage and then order a wine and enjoy it at the terrace with this incredible view!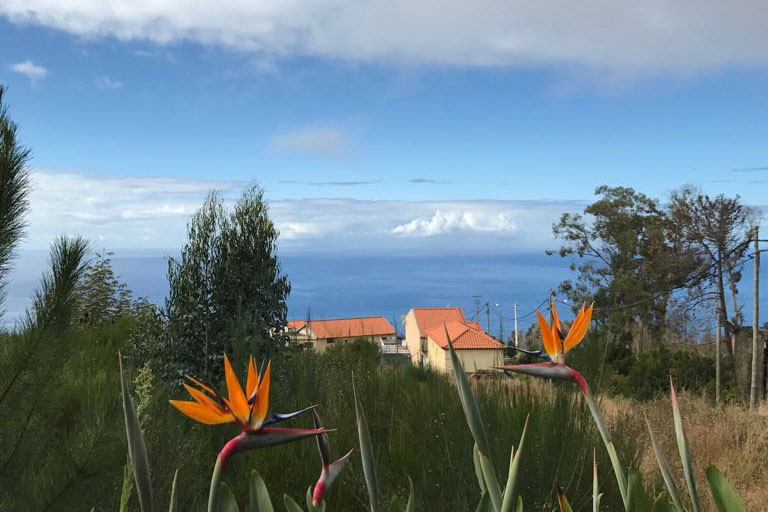 Another awesome place for vegans and vegetarians is the italian restaurant called "Manifattura di gelato". It doesn´t have only awesome icecreams (unfortunately the fruity ice creams have 5 % milk powder inside) but also a vegan main dish, which is really tasty! They were also open to veganize other dishes as we returned there almost every evening because we loved the food there. Unfortunately these are the only two places I can recommend for my vegan/vegetarian friends.
I have to mention that even tripadvisor was not helpful in Madeira. Sometimes tripadvisor would say they offer vegetarian and vegan options but after getting excited and trying them out we found out that they were quite bad as well as in some cases the quality of the restaurants in general. So in case you have further recommendations on restaurants with awesome vegan and vegetarian options in Madeira please let me know so I can add them on the list here!
During my travels I came up with some ideas on how to deal with ensuring a healthier and vegan diet for myself. Click here to read about it.
Follow me on Instagram for further inspiration
<img src="https://vg06.met.vgwort.de/na/3e8c568557734849b4cd0ef94a388c1e" width="1″ height="1″ alt="">